Cloud back-up, a process that makes all the difference
Cloud backup, also known as online backup, is a strategy for backing up data by sending a copy of the data over public network to an off-site server. Our servers are hosted in a secured datacenter.
How cloud backup works?

The backup process copies data and stores it on different media or another storage system for easy access in the event of a recovery situation. Cloud backup serves this purpose for many organizations.
Options for cloud backup services include:
Backing up to a service provider. An organization writes data to a cloud service provider with backup services in a managed data center.
Cloud-to-cloud backup. For data that lives in the cloud in software as a service (SaaS) applications, this practice copies that data to another cloud.
When an organization begins to use cloud backup services, the initial backup can sometimes take days to finish uploading over a network due to the volume of data to be transferred. A technique called cloud seeding enables a cloud backup vendor to send a storage device, such as a disk drive or tape cartridge, to the organization, which then backs up data locally and sends the device back to the provider. That removes the need to send the initial data over the network to the backup provider. After the initial seeding, only changed data is backed up over the network.
How data is backed up?

Online backup systems are typically built around a client software application that runs on a schedule determined by the purchased level of service. If the customer has contracted for daily backups, for instance, the application collects, compresses, encrypts and transfers data to the cloud servers every 24 hours. To reduce the amount of bandwidth consumed and the time it takes to transfer files, the service provider might only provide incremental backups after the initial full backup.
Cloud backup services includes the protection of your organization's data, including applications for Exchange and SQL Server.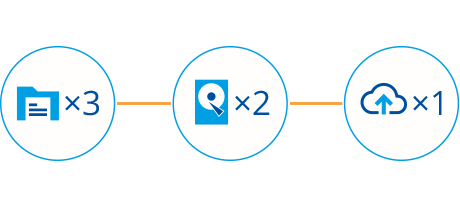 Have at least
TREE

independent copies of your data
Store the copies on
TWO

different types of media


Keep
ONE

backup copy offsite
Please note that all plans have a on-time installation fee of €250